Capable Insurance Repairs
Webb Builders is a Restoration Construction Contractor committed to personal attention and quality insurance repairs in Northwest Ohio and Southeast Michigan.
We proudly work with all insurance agencies for insurance repairs. As the property owner, YOU select the contractor, not the insurance company! At Webb Builders, we provide ideas and solutions to have the property repaired efficiently and within the budget and provisions of the insurance policy.
We can assist you in every stage of the restoration process. These processes include, but are not limited to, the initial emergency response, temporary lodging, content pack-out and inventory, content and structure cleaning, and the final structure repairs. Our estimators use the industry's leading estimating software to ensure your home is restored to pre-loss condition using competitive pricing!
Fire Restoration
Water Damage Repair
Flood Restoration
Wind Damage / Tornados
Tree Damage
Car through the house
Smoke Damage Restoration
Restaurants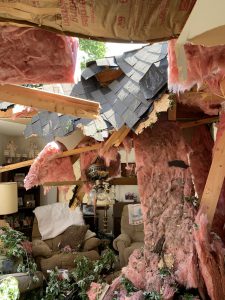 What our customers have to say about
our insurance restoration…

Kevin was there from day one. He worked with the insurance adjuster so that I did not have to. I appreciated his tenacity. Insurance covered everything thanks to Kevin. All of the workers were professional and did quality work. Kevin was there to inspect everything. Kevin kept me informed all along the way. I would hire him again.
—Amy S

I work in the Insurance Industry so I have seen their workmanship on a wide variety of projects and repairs. It is impossible to make everyone happy but I can say that that I have heard very good things about this contractor in regards to their professionalism and ability to make things happen in a timely manner. They have always managed to keep the customer happy and complete the job on time and on budget.
—Insurance Adjuster

After super storm Sandy, our condo suffered from water damage to the inside walls. Our association picked the contractor to do the repair work. All I can say is that I'm so glad they picked the folks that they did. Kevin Webb and his crew did a fabulous job, not only with the physical repair work but also with keeping us informed. Everything they did was professional, precise, and timely. They restored our unit back to (and probably better) than it was originally. This included drywall work, sanding, and painting. Careful attention was given to make sure all areas matched, making the repair seamless. I simply cannot say enough good things about them.
As I said above, the repair work was done flawlessly and our unit is as good, or better, than it was originally. Very Highly Recommended!
—Kevin H

Rob,
I can't thank you enough for all that you did to repair my home after the water damage! You're the best!
— Nancy O.

Webb Builders was a life saver for me. I have never experienced a large scale problem with my home that required an insurance claim and contractors to complete the work. Webb Builders was very quick to respond to my request for a quote, and was very helpful in guiding me through the process of an insurance claim. I had no idea how involved a water leak was until Kevin Webb came and showed me everything that was damaged and explained the ramifications of not having it take care of.
Once the work to restore the damage began Kevin and his crew were very timely and professional, and as far as I can tell did very good quality work. The thing that I appreciated the most was Kevin's ability to come out to the house and assess the situation and inform me whether or not it was necessary to get insurance involved. Once that was determined he worked with the adjuster to make sure I was being treated fairly. I feel like without someone who knows the system on my side I would have had no idea if the adjuster was providing a reasonable quote. Overall I am extremely satisfied with the work Webb Builders did for me and I would not hesitate to use them again or highly recommend them to friends or family.
—Dr. Jared K

I walked into the facility (hotel) on March 27th and the ceilings were on the floor. A total of 15,000 square feet of the first and second floors were destroyed. We had bookings in the end of April, so it had to get done fast. I explained my situation to Webb Builders and the insurance company and we got everything moving. Kevin Webb was there on-site all of the time. They were working 24/7 at the hotel. They did the tear-out and drying and applied drywall and insulation and faux painting on all walls, new flooring throughout, electrical, custom-built cabinets, and even helped us assemble the hotel furniture when it came in. I cannot imagine any other company doing what they did. It was really incredible! This place is now beautiful and looks like a brand new facility! We would have taken a loss of $44,000 per week is we did not get the job done. They really stepped up and saved us!
—Hotel Management, Port Clinton