New Home Construction
For those with a discriminating taste, we can help build "Your Dream Home." Whether you wish to up-size or down-size your current residence and build a new one, Webb Builders can design and build your dream home. Your new home will be built specifically to suit your individual taste and needs.
Our dedicated home construction crew is committed to the best quality, craftsmanship, and professionalism. Each home is carefully built as if we are going to live in them ourselves.
Webb Builders is the new home builder who believes in dreams . . . your dreams!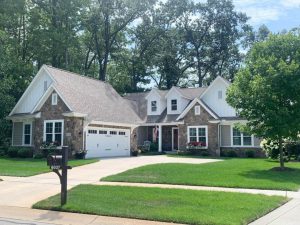 What our customers have to say about
our custom homes…

Dear Dave and Diane,
We wish to sincerely thank you for the beautiful house which you have constructed for us. We and our children will build a truly happy and memorable home here. We appreciated the attention our requests and desires were met with. We have recommended your company to several prospective buyers and hope that they follow through with you. Please feel free to call us to make an appointment for anyone to view our home if they wish. Soon we will actually have furniture for it! Thanks for everything!
— Jeff and Marianne

This was far from an easy or straightforward project and it met with quite a few hiccups along the way. The Webb team was extremely professional, taking everything in stride and adapting to many changes throughout the rebuild. Their commitment to pleasing their customer was evident in their consistent willingness to accommodate schedules, last minute changes, and specific subcontractors.
There isn't a person who has visited the house since it was completed who hasn't fallen in love with the finished product. Almost everyone has asked for the name of the builder, and I've proudly provided them with contact information for Webb. They are at the top of my list if I ever need a builder in the future!
—Jennifer F